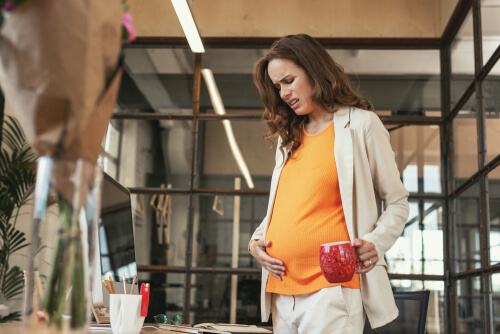 Pelvic Pain in Mid and Late Pregnancy
Patient may experience difficulty with walking, standing, going down stairs, turning in bed, and, in severe cases, immobility.
Pathophysiology:
By the influence of relaxin and progesterone, the fibrocartilaginous symphysis pubic joint relaxes by 2-3 mm in normal pregnancy to widen the pelvis before delivery. If this is increased, it causes pelvic girdle instability and pain.
Examination shows:
Tenderness over symphysis pubis and sacroiliac joints.
Reduced hip movement range.
Management:
Consult an obstetric physiotherapist for advice on posture and gentle exercises.
Pelvic support.
Paracetamol and Codeine.
Crutches, walking frame, or wheelchairs in severe cases.
Avoid heavy lifting and prolonged standing.
When getting out of the car or turning in bed, avoid hip abduction by keeping knees together.
During labor, avoid leg separation and excessive hip abduction.
Symptoms are usually resolved postpartum with high probability of recurrence in subsequent pregnancies.
Click here to know more about Delivery Packages