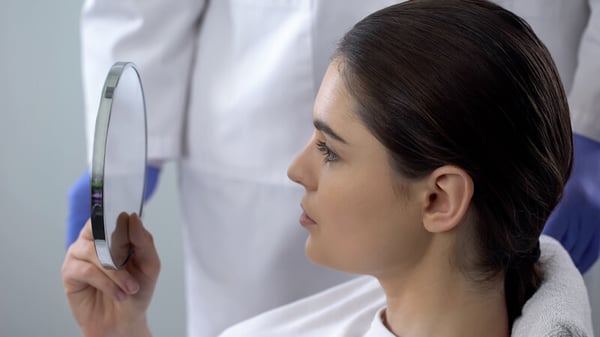 Recovery after Rhinoplasty (Nose job)
Here is what you will experience following your rhinoplasty. do not worry, it is journey with some inconvenience only.
First day- nasal external split in place, oedema or swelling around the eyes and on the nose -mild nasal discharge with mild pain can be controlled by soft pain killer. Nasal breathing will be difficult due to the oedema or if the nasal pack still exist.
Second day- You have to remove the nasal pack if it was inserted .Still there is swelling and some colour change around the eyes(Yellow or mild brown ).The pain and swelling should be decreasing within 72 hours. if the pain increased, you have to call your doctor.
Third day- ( After 72 hours) the bruising and swelling are usual after surgery , but this bruising varys significantly from one to another person, May track down to the upper check area .if the surgical work was on the nasal tip or septum, it is rare to see significantly swelling or bruising.
One week- The nasal discharge will be less , most of the pain have disappeared .External split should be removed , nasal breathing significantly improves after removing the internal nasal splints (if exist ). But some nasal stiffness may happen several weeks after operation , mucous in the throat will disappear as well.

After 7 days- Some temporary decrease in sense of smell and taste is found after surgery. This is due to the nasal oedema and disruption of some minor nerves during surgery . then will begin to improve with in 1-2 weeks.

After 2 weeks- It 's not needed to put any tape on the nose but be careful not to touch the nose strongly. The nasal dorsum and tip will look more broader than desirable , all swelling in the nose will improve during the several weeks and bruising will disappear.

After 1 month -The swelling is less ,no bruising , the appearance near normal, you can wear your eye glasses .