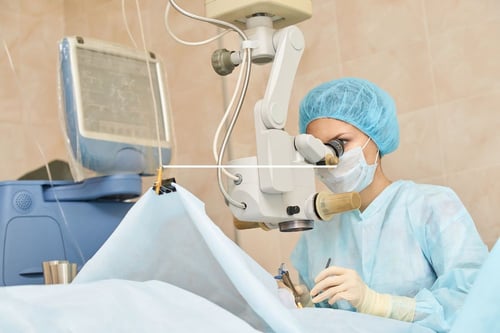 LASIK SURGERY? Everything you need to know about lasik surgery.
Lasik is a highly effective and advanced method to correct vision problems such as myopia, hyperopia, and astigmatism. Using only a laser beam, LASIK aims to permanently improve vision without the need for glasses or contact lenses. The procedure has been proven to be effective and safe, reducing dependency on glasses and improving quality of life.
WHO CAN LASIK HELP?
People who need clear, sharp and natural vision
People who need to get rid of their glasses
People without chronic eye diseases like keratoconus
Patients with no autoimmune disease patients over 18 years old
Patients having stable glasses prescription for one complete year like rheumatoid arthritis or systemic lupus.

HOW LONG WILL I HAVE BLURRY VISION AFTER LASIK?
In most patients blurred vision lasts only for a couple of days after Lasik, and few patients take a week to get sharp and clear vision.
''During this time do not worry and always remember blurring after Lasik is just a matter of time.''
DOES MOVING THE EYES, COUGHING, or SNEEZING AFFECT THE LASIK PROCEDURE?
Moving does not affect the procedure as the machine has eye-tracking technology, and the doctor usually guides you during the procedure to fix your vision on a light target. Coughing and sneezing postoperatively also do not have any effect on Lasik's outcome.
WILL LASIK CORRECT MY VISION TO 20/20 (PERFECT VISION)?
Well, the aim of doing Lasik surgery is to improve your vision and let you see the world as if you are putting on your glasses.
So if your best-corrected vision with glasses is 20/20, you will get the same result after Lasik.
Some patients used to have lazy eye or amblyopia, where their best-corrected vision with glasses does not reach 20/20, those will see after Lasik as they used to see with their glasses.
So just keep in mind that the Lasik procedure can treat myopia, hypermetropia, and astigmatism, but never treats amblyopia.
WHAT ARE TESTS NEEDED BEFORE LASIK?
Comprehensive eye exams

, where the doctor checks the anterior segment of the eye and measures the

intraocular pressure.

Corneal Pentacam and pachymetry, to check your corneal parameters and decide which

type of refractive laser procedure fits you.

Dilated fundus exam, after putting eye drops to check for any retinal abnormal condition
WHAT IS NOT ALLOWED AFTER LASIK AND FOR HOW LONG
Avoid rubbing your Eyes for 4 weeks, Till complete healing of the corneal flap takes place to avoid its dislocation.
Be careful not to allow water or any spray into your Eyes for 1 Week.
Avoid Pools for 1-2 weeks.
Avoid using computer TV for the first 24 hours.
Avoid Dirty and dusty environments the first few days after the procedure
Use Sunglasses with proper UV Protection whenever you are outdoors.
Who is not suitable for LASIK?